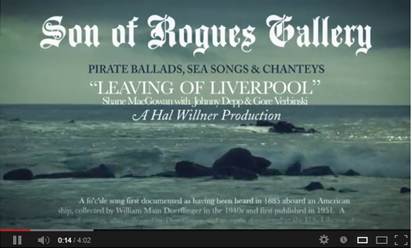 HAL WILLNER PRODUCTIONS PRESENTS
SON OF ROGUE'S GALLERY:PIRATE BALLADS, SEA SONGS & CHANTEYS
OUT FEBRUARY 22 ON ANTI- RECORDS, EXECUTIVE PRODUCED BY JOHNNY DEPP AND GORE VERBINSKI
TWO DISC SET FEATURING CONTRIBUTIONS FROM TOM WAITS, KEITH RICHARDS, JOHNNY DEPP, PATTI SMITH, NICK CAVE, COURTNEY LOVE, MICHAEL STIPE AND IGGY POP AMONG OTHERS
HEAR "LEAVING OF LIVERPOOL" NOW!
"His far-ranging musical sensibility makes Willner the perfect man for this job…"
—Philadelphia Inquirer
"…relevant and underappreciated folk music."—Chicago Tribune
Son of Rogue's Gallery: Pirate Ballads, Sea Songs & Chanteys, produced by Hal Willner, will be released February 22 on Anti-Records. Executive produced by Johnny Depp and Gore Verbinski, the compilation two-disc recording of sea shanties features Tom Waits, Keith Richards, Iggy Pop, Nick Cave, Patti Smith, Sean Lennon and many more. The album is a follow up to Willner's 2006 production, Rogue's Gallery: Pirate Ballads, Sea Songs and Chanteys (Anti-), which was praised by The New York Times calling it "a strong album with heart as well as ideas" and Entertainment Weekly hailing it as "a revelatory folk-song collection with the sea in the leading role." The premiere track off the new release "Leaving for Liverpool" is available now.
Best known for his tribute records, covering the music of Thelonious Monk, Kurt Weill and Harold Arlen among others, Willner came up with the idea for Rogue's Gallery compilations with actor Depp and director Verbinski while on the set of Pirates of the Caribbean: Dead Man's Chest (second instalment in the movie saga). Of the new compilation, Willner notes, "About a year ago I secretly thought we would never finish. As easy as volume 1 was to coordinate, this was the opposite, but it is a very different record than volume 1. This one seems…happier? Not as much about torture, sodomy and death, which will disappoint some but, we don't need to repeat ourselves do we?"
Track Listing
Disc 1:
1. Leaving of Liverpool (Shane MacGowan w/Johnny Depp & Gore Verbinski)
1. Sam's Gone Away (Robyn Hitchcock)
3. River Come Down (Beth Orton)
4. Row Bullies Row (Sean Lennon w/Jack Shit)
5. Shenandoah (Tom Waits w/Keith Richards)
6. Mr. Stormalong (Ivan Neville)
7. Asshole Rules the Navy (Iggy Pop w/A Hawk and a Hacksaw)
8. Off to Sea Once More (Macy Gray)
9. The Ol' OG (Ed Harcourt)
10. Pirate Jenny (Shilpa Ray w/Nick Cave & Warren Ellis)
11. The Mermaid (Patti Smith & Johnny Depp)
12. Anthem for Old Souls (Chuck E. Weiss)
13. Orange Claw Hammer (Ed Pastorini)
14. Sweet and Low (The Americans)
15. Ye Mariners All (Robin Holcomb & Jessica Kenny)
16. Tom's Gone to Hilo (Gavin Friday and Shannon McNally)
17. Bear Away (Kenny Wollesen & The Himalayas Marching Band)
Disc 2:
1. Handsome Cabin Boy (Frank Zappa & the Mothers of Invention)
2. Rio Grande (Michael Stipe & Courtney Love)
3. Ship in Distress (Marc Almond)
4. In Lure of the Tropics (Dr. John)
5. Rolling Down to Old Maui (Todd Rundgren)
6. Jack Tar on Shore (Dan Zanes w/Broken Social Scene)
7. Sally Racket (Sissy Bounce (Katey Red & Big Freedia) with Akron/Family)
8. Wild Goose (Broken Social Scene)
9. Flandyke Shore (Marianne Faithfull w/Kate & Anna McGarrigle)
10. The Chantey of Noah and his Ark (Old School Song) (Ricky Jay)
11. Whiskey Johnny (Michael Gira)
12. Sunshine Life for Me (Petra Haden w/Lenny Pickett)
13. Row the Boat Child (Jenni Muldaur)
14. General Taylor (Richard Thompson w/Jack Shit)
15. Marianne (Tim Robbins w/Matthew Sweet & Susanna Hoffs)
16. Barnacle Bill the Sailor (Kembra Phaler w/Antony/Joseph Arthur/Foetus)
17. Missus McGraw (Angelica Huston w/The Weisberg Strings)
18. The Dreadnought (Iggy Pop & Elegant Too)
19. Then Said the Captain to Me (Two Poems of the Sea) (Mary Margaret O'Hara)
Comments
comments