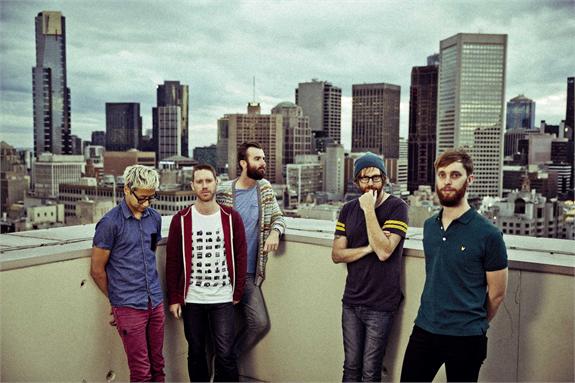 Australia's epic Birds of Tokyo announced today that their fourth full-length studio album will be called 'March Fires'. Appropriately, the highly anticipated work will land on March 1, 2013. The band will kick start the release with the 'March Fires Tour' crisscrossing the nation from late February onwards presented by triple j and Channel [v]. It will be Birds of Tokyo's first national tour in 18 months and tickets for all shows go on sale this Friday, December 14.
The 'March Fires' tracklisting will be as follows:
Liquid Arms
This Fire
When The Night Falls Quiet
Motionless
Lanterns
The Others
White Leaves
Blume
Boy
Sirin
Hounds
Dates and venues for the 'March Fires Tour' are listed below. Special guests on all dates except WA, will be buzzing rock band Regular John plus opening artists to be confirmed.
The band's recent release of the four-track EP 'This Fire' and a handful of special preview shows (including a barnstorming set at the Homebake Festival) have provided fans with their first taste of the new Birds of Tokyo. The EP's lead track has been one of the most requested and most played songs on the triple j network over recent weeks, and is still climbing the national airplay chart.  The award winning Kris Moyes directed its unique video. Check it out HERE.
For Birds of Tokyo, the last year has been all about change and renewal and that experience is infused throughout their new album.
First there was the addition of two new members (Glenn Sarangapany on keys and Ian Berney on bass). Then for various reasons the three original members (Ian Kenny – vocals, Adam Spark – guitars and Adam Weston – drums) all relocated from their hometown of Perth to new cities across the eastern seaboard. After that they consciously reinvented their approach to songwriting with a new Sydney studio space plus time spent together in a remote French farmhouse helping to blaze new trails.  And if that wasn't enough, they then went to Los Angeles to record with both a new producer, Dave Cooley (Silversun Pickups) and a new mixer, Tony Hoffer (M83, Beck, The Kooks, Belle & Sebastian).
"We really made a conscious choice to just put a match to everything we'd done before so that we could create something that felt fresh and exciting for us. Hopefully people who like the band will feel the same way when they hear it", explains Adam Spark.
Over the course of their first two studio albums (2007's "Day One" and 2008's "Universes") Birds of Tokyo carved out a niche for guitar driven anthems. Lots of touring around Australia gradually turned them into indie chart toppers. Their eponymous third release in 2010 shifted things up a gear with double platinum certifications and hit singles "Plans" and "Wild At Heart". They received songwriting awards from APRA, had their work voted "Rock Album Of The Year" by their peers and then capped it all off by winning the publicly voted gong as "Most Popular Australian Artist" at the 2011 ARIA Awards.
Not surprisingly their heads were swimming. But rather than milk a formula they decided to throw themselves into new ways of being a band.  Burnt it down.  Started again.
The result is 'March Fires'.  The album's title directly reflects its phoenix-like conception plus in the northern hemisphere the March fires are typically a natural source of renewal each spring. 
Don't miss Birds of Tokyo live in 2013 as they launch 'March Fires' from coast to coast. Stay tuned for much, much more.
BIRDS OF TOKYO 'MARCH FIRES' 2013 TOUR
On Sale Fan Club: Thursday 13th December @ 9am
On Sale GP: Friday 14th December @ 9am except Melbourne, Sydney and Brisbane on sale @ midday.
With special guests REGULAR JOHN (all dates except WA)
*All shows 18+ except if noted.
February/March 2013
Wednesday 27th Febaruary : University of Ballarat, Sport & Rec Centre (Mt Helen Campus)
Oztix – www.oztix.com.au / 1300 762 545
New Generation, Premix King (Mt Helen), Ubuy Store Uni Of Ballarat (Mt Helen Campus)
Thursday 28th February: Pier Live, Frankston
Ticketmaster – www.ticketmaster.com.au / 136 100
Oztix – www.oztix.com.au / 1300 762 545
Venue –  www.pierlive.com.au / 03 9783 2092
Friday 1st March: Kay St, Traralgon
Oztix – www.oztix.com.au / 1300 762 545
Moshtix – www.moshtix.com.au / 1300 (GET TIX) 438 849
Venue – 03 5176 0463 
Saturday 2nd March: The Forum, Melbourne
Ticketmaster – www.ticketmaster.com.au / 136 100
Tuesday 5th March: HQ, Adelaide
Moshtix – www.moshtix.com.au / 1300 (GET TIX) 438 849
Venuetix – www.venuetix.com.au /  08 8225 8888
Oztix – www.oztix.com.au / 1300 762 545
   
Thursday 7th March:  Prince of Wales, Bunbury
Heatseeker – www.heatseeker.com.au
Moshtix – www.moshtix.com.au / 1300 (GET TIX) 438 849
   
Friday 8th March: Fremantle Arts Centre
Heatseeker – www.heatseeker.com.au
   
Sunday 10th March: Breath Of Life Festival, Launceston
www.breathoflifefestival.com
   
Tuesday 12th March: UC Refectory, Canberra 
Ticketek – www.ticketek.com.au / 132 849
Oztix – www.oztix.com.au / 1300 762 545
   
Wednesday 13th March: Waves, Wollongong
Moshtix – www.moshtix.com.au / 1300 (GET TIX) 438 849
Oztix – www.oztix.com.au / 1300 762 545
   
Friday 15th March: Panthers, Newcastle
Moshtix: www.moshtix.com.au / 1300 (GET TIX) 438 849
Oztix – www.oztix.com.au / 1300 762 545
   
Saturday 16th March: Enmore Theatre, Sydney – ALL AGES
Ticketek – www.ticketek.com.au / 132 849
   
Tuesday 19th March: Laurieton United Services, Laurieton 
Oztix – www.oztix.com.au / 1300 762 545
Venue – 02 6559 9110
Wednesday 20th March: Plantation Hotel, Coffs Harbour
Venue – www.plantationhotel.com.au / 02 6652 3855 
Oztix – www.oztix.com.au / 1300 762 545
Park Beach Music – 02 6652 3725
   
Friday 22nd March: The Tivoli, Brisbane
Ticketek – www.ticketek.com.au / 132 849
Oztix – www.oztix.com.au / 1300 762 545
   
Saturday 23rd March: Coolangatta Hotel, Gold Coast
Oztix – www.oztix.com.au / 1300 762 54
BIRDS OF TOKYO | 'MARCH FIRES' | TO BE RELEASED MARCH 1
PRE-ORDER THE ALBUM NOW FROM HERE
For further information check out: 
www.facebook.com/birdsoftokyomusic
www.youtube.com/user/birdsoftokyo
Comments
comments