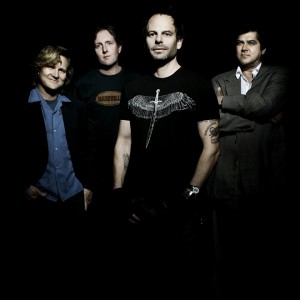 KillRockStar Big Dog Entertainment are proud to present platinum selling, US pop rockers Gin Blossoms on their first ever Australian tour.
Fuelled by mega-hits including Hey Jealousy, Found Out About You and from the Empire Records movie soundtrack Til I Hear It From You, Tempe Arizona quintet Gin Blossoms completed the classic crossover from college-circuit heroes to multi-platinum album sellers in the 1990's. Most recently featuring on the massive Summerland Tour in the US with the likes of Everclear, Sugar Ray, LIT and Marcy Playground, Gin Blossoms will rock Australian audiences live for the very first time in 2013.
After their inception in 1987 Gin Blossom's hometown following in Tempe, Arizona grew quickly as the band earned a deserved reputation as a killer live act. Readers of the Phoenix New Times chose them as the city's best rock band qualifying them to play at the South by Southwest Music Festival in Austin, Texas in March, 1989. Later that year, College Music Journal dubbed them the "Best Unsigned Band in America" and invited them to play MTV's New Music Awards in New York City.
Major label interest quickly followed, their initial releases on A&M Records included Up and Crumbling in 1991 and the multi-platinum selling New Miserable Experience in 1992 featuring the single, Hey Jealousy which peaked at #25 on Billboard Hot 100. Four more singles followed Mrs. Rita, Found Out About You, Allison Road and Until I Fall Away. With NME having sold nearly 3 million copies in the US alone, the Gin Blossoms became a band to be reckoned with.
In 1995 the band founded further widespread acclaim with the single Til I Hear It From You which was included on the soundtrack to the classic coming-of-age film Empire Records. Shooting into the number 11 spot on the Billboard Hottest 100, Billboard Magazine called the single "the closest thing to a perfect pop song to hit radio in recent memory," and commented on its "breezy and wonderfully infectious melody, the boy-needs-girl lyrics, and the earnest execution."
Congratulations I'm Sorry, which was released in 1996, was the Blossom's final original album of the decade bringing them two more hits … Follow You Down which spent ten weeks in the Top Ten and As Long As It Matters which earned the group a Grammy nomination for "Best Performance by a Duo or Group." The album debuted in Billboard's Top Ten and a year of touring helped put the record past 1,500,000 units sold.
The group then took a lengthy hiatus before embarking on an eighty-date US tour in 2002. "We have not stopped touring 100+ shows a year since December of 2001. Playing live gives us the most pleasure, this much we all agree" says Robin Wilson. 2006 saw the release of Major Lodge Victory which captured two more top 40 singles Learning The Hard Way and Long Time Gone. Billboard called the album "an effortless triumph of melodic perfection." Their most recent album, 2010 No Chocolate Cake, again landed Gin's back on the singles chart with Miss Disarray and the album charted to # 1 on Amazon. Now in Summer 2013 Gin Blossoms will bringing their perfect pop to fans in Australia for the very first time for what is sure to be a run of memorable shows in Melbourne, Brisbane Sydney and Perth.
KillRockStar BigDog Entertainment presents

Australian Tour 2013
*Tickets on sale Thursday 26th October 2012
Thursday 7th  February 2013 HiFi. Melbourne
www.moshtix.com.au  / www.thehificom.au
Friday 8th  February 2013 HiFi. Brisbane
www.moshtix.com.au  / www.thehificom.au
Saturday 9th  February 2013 HiFi. Sydney
www.moshtix.com.au  / www.thehificom.au
Sun 10th  February 2013 Capital. Perth
www.oztix.com.au  / www.heatseeker.com.au
Comments
comments