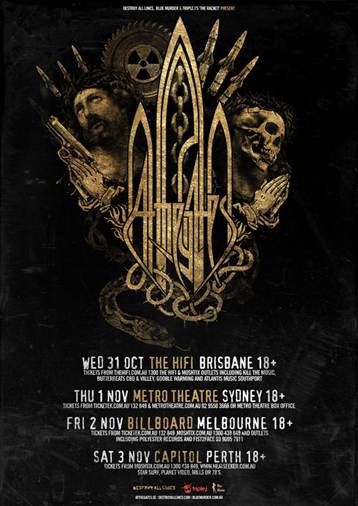 As the national tour from recently reformed Swedish death metal legends At The Gates approaches, Destroy All Lines and Blue Murder are excited to announce the support acts that will make these bills even more brutal and thrilling.
 Supports have been crafted carefully for each of the four lucky cities to host the band. Brisbane scores The Fevered and In Death, Sydney Katabasis and As Silence Breaks, Melbourne Be'Lakor and Eye of the Enemy and finally, I Am Eternal and Befallen for Perth. A truly awesome concoction of bands for At The Gates' first ever Australian tour, which is both approaching and selling fast.
Known for masterfully mixing a ferocious blend of melody and brutality into memorable metal breakdowns, this beloved five-piece have built a reputation for delivering genre-defining albums and frenetic live performances.
 After making four studio albums and one EP in the space of six years, At The Gates had long been praised for helping define Swedish metal's now world-renown sound. Having established themselves as genre pioneers, the band suddenly parted ways in 1996 when the pressures of intense touring took their toll on the bands key songwriters, Anders and Jonas Bjorler. They consequently left the band and created yet another dominant Swedish metal presence in The Haunted while vocalist Tomas Lindberg poured his energies into fronting beastly Swedish bands, Disfear and Skitsystem.
At The Gates momentarily reunited for a tour in 2008 and then announced an official reformation in 2010 noting that they had no plans to tour extensively or record new material. So it is with great excitement that Australia has been granted an extensive tour, the likes of which the band has never attempted since their noted and much celebrated reunion.
At The Gates are perhaps best known for their fourth studio album Slaughter Of The Soul, which many critics agreed finally delivered on the potential power and rawness that the band had been threatening since formation. Keyboards were added to one track on the album adding an unexpected new dimension to their already unique take on metal. Kerrang noted their innovation stating "At The Gates hammer home the point that brutality can be melodic".
Slaughter Of The Soul's legacy as a groundbreaking metal album has remained intact since its 1995 release with the band suggesting "it would be pointless to release something more than ten years after Slaughter Of The Soul lamenting that anything the band released thereafter "would just disappoint people".  Vocalist Lindberg reiterated the band's staunch refusal to record again in 2007, "No new record will be recorded" .
Don't miss your chance to witness a rare and sought-after At The Gates' live performance. Celebrate melodic metal, perfectly immortalized from deep within the 90s in all its brutal glory.
Blue Murder, Destroy All Lines and triple j's The Racket present:
AT THE GATES AUSTRALIAN TOUR
 Wednesday 31 October The HiFi Brisbane 18+
With The Fevered +  In Death
Tickets from www.thehifi.com.au or 1300 The HIFI & Moshtix outlets including Kill The Music, Butterbeats CBD & Valley, Gooble Warming and Atlantis Music Southport
 Thursday 1 November Metro Theatre Sydney 18+
With Katabasis +  As Silence Breaks
Tickets from Ticketek on 132 849 or ticketek.com.au and Metro Theatre Box Office 02 9550 3666 metrotheatre.com.au
Friday 2 November Billboard Melbourne 18+
With Be'Lakor + Eye of the Enemy
Tickets from Ticketek on 132 849 or ticketek.com.au, Moshtix on 1300 438 849, www.moshtix.com.au and Moshtix outlets including Polyester Records and Fist2Face 03 9095 7911
Saturday 3 November Capitol Perth 18+
With I Am Eternal +  Befallen
Tickets from Moshtix on 1300 438 849 or www.moshtix.com.au, www.heatseeker.com.au, Star Surf, Planet Video, Mills or 78's.
Comments
comments