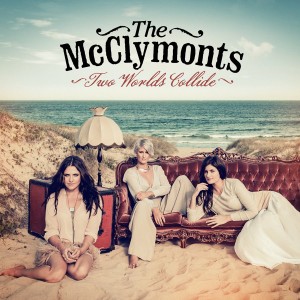 In 25 words or less:  Great songs, perfect harmonies, and an overall well-made modern country rock record.
You should know by now that we cover a wide range of Rock music here at May The Rock Be With You, and one of my personal favourite genres is the new breed of 'Country Rock'. Gone are the days of the traditional country sound for newer artists, the way has been paved for this modern updated sound and one of those that do it very well are three not only gorgeous but talented sisters from Australia. Brooke, Sam and Mollie, The McClymonts. 'Two Worlds Collide' is their third full length release and if the opener and title track is anything to go by then I'm already looking forward to what's in store, with its infectious hook and perfectly blended harmonies, this is sure to be fun.
Song after song delivers the same punch, musically these girls all play their instruments, reminiscent of The Dixie Chicks and give me that same vibe but with somewhat of a sweeter feel. Maybe I'm just biased because their Australia ha ha. 'Everybody's Looking To Fall In Love' is my favourite so far, I'm digging the melody driven riff and structure of this one. Now don't get me wrong, there's still the Country feel with the inclusions of banjos, mandolins and the likes but the balance with the rockier sound makes it work to their advantage. New single 'Piece Of Me' is a perfect choice and could sit nicely in between the likes of Lady Antebellum or Taylor Swift on the US charts, so fingers crossed it can do what its destined to do…
The acoustic driven ballad 'Where You Are' strips it back and really showcases the girls' vocal talent, 'Little Old Beat Up Heart' is a great track, lyrically I'm enjoying this one, it's a somewhat traditional love song, with a twist and it works. I dig this one. Ooh I'm liking 'How Long Have You Known' great production on this one with a subtle yet perfectly placed underlying piano, not to mention a rockin' guitar solo. This will be a definite favourite when played live that's for sure.
So, am I the only one that reads the words 'This Ain't Over' and has to say it in a Charles Bronson voice? Yeah thought so… Well in this case, thankfully there are no guest vocals from Charles, in fact this is probably one of my favourite tracks on the album. Actually hits a little close to home this one… Is my place bugged? Thankfully no, but when I personally can relate to a song it takes on a different meaning, so thanks girls. That was a great one. Unfortunately we're at the last track with 'Feel Like Going Home', but it's a good way to end a solid album that was full of catchy songs, great vocals and production that suits the songs and the girls' style perfectly.
I think this album really should take The McClymonts to a new level and given the opportunity in the right market it will, not should, will explode. Watching them 'grow' as artists over the years has been a treat and I can't wait to see what happens next. Well done ladies, this one will be in rotation for a while here.
Essential Information
From: Australia
For fans of: Modern Country
Release date: 18 May 2012
Record label: Universal Music Australia
Producer: Luke Wooten, Peter Asher, Nathan Chapman
Website: http://www.themcclymonts.com
Track listing:
Two Worlds Collide
The Easy Part
Everybody's Looking To Fall In Love
Piece Of Me
Sweet
Where You Are
Little Old Beat Up Heart
Those Summer Days
How Long Have You Known
This Ain't Over
Feel Like Going Home
Comments
comments