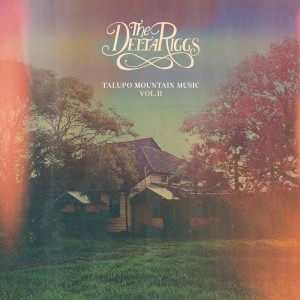 The Delta Riggs have been kicking around now for the best part of around 5 years or so, and on this, their latest EP, this really shows, for this is one heck of a great rock 'n' roll release from one very tight, highly capable band.  With fellow bands like Stonefield and My Dynamite currently blazing the trail of Aussie rock heritage on a global scale right now, Talupo Mountain Music Vol . II is bound to deservedly also put The Delta Riggs on the world wide map of classic rock ' n' roll.
Recorded in a single, self produced, live recording session, listening to this EP does indeed transport you slap bang right into the middle of a jam in a smoky, dingy, little rock room…or more specifically in the case of this recording, Sing Sing Studios in Melbourne.   Opener Counter Revolution and closer Used To Be My Baby see The Delta Riggs at their most raw, fist pumping and rambunctious.  In stark contrast, the stunning centrepiece of the EP is Mary, which delivers a hefty dose of soul and class, really exemplifying the songwriting quality of the band.  Billy Black really crawls under your skin, with an addictive chorus, rollicking piano and a bevy of gospel backing vocals.
There's a seemingly endless supply of music out there in the world these days and there's always a concern whether nuggets like this will find their way through the swampy bogs of over hyped and publicised crap that gets fobbed off as music these days…but there is no better ending to this than stealing a quote from the bands press release itself.  "The 'Riggs shine a light on the reasons why Rock 'n' Roll shall always be a thing of the people, for the people… Now get on board and let's get this thing together. Dig."  Dig indeed I do as soon will countless others once this EP finds it's way beyond Australia!
These guys are touring, go see them if they come to a place near you…tour dates below.
Check out our interview with The Delta Riggs right here… 
Essential Information
From: Melbourne, Australia via the Gold Coast, Australia
For fans of:  Simply classic rock 'n' roll – but as a reference bands like You Am I, Vintage Trouble, The Black Crowes, My Dynamite, Stonefield, Rival Sons
Produced/mixed by: The Delta Riggs
Release date: 18 May 2012
Website: www.thedeltariggs.com
Tour dates:
Fri 08 June – FBi Social, Sydney? Tickets available from Oztix www.oztix.com.au, 1300 762 545 & Oztix outlets
Sat 09 June – Workers Club, Melbourne? Tickets available from Corner Box Office (57 Swan St, Richmond) or 03 9486 1677
Thu 14 June – Lambda Lambda Lambda @ Alhambra Lounge, Brisbane? Tickets available on the door
Fri 15 June – Elsewhere Bar, Gold Coast? Tickets available from Oztix www.oztix.com.au, 1300 762 545 & Oztix outlets
Comments
comments