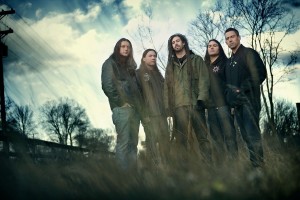 'Fire From The Sky' To Be Released July 27th
Grammy-nominated rockers Shadows Fall have confirmed that their seventh studio album, 'Fire From The Sky', will be released internationally on July 27th 2012 via Spinefarm Records.
Recorded at Zing Studios in late 2011, 'Fire From The Sky' reunites Shadows Fall with long-time friend, producer/engineer & Killswitch Engage/Times Of Grace guitarist,Adam Dutkiewicz, whose previous production credits include both Devil Wears Prada & All That Remains. The album was mixed by Brian Virtue and features some of the band's most complex and melodic material in years, including two brand new bonus recordings plus two exclusive live tracks.
"'Fire From The Sky' is not a concept album by any means, but a few common themes do link these songs together…"  says vocalist Brian Fair. "These days, the world seems to be spiralling out of control into a frantic state of confusion, corruption and chaos.  It's as if we are living under the shadow of an impending apocalypse.  The songs on this album were inspired by this chaos and the struggle to find answers in these dark days." 
Listen to brand new album track, 'Nothing Remains' HERE.

Comments
comments