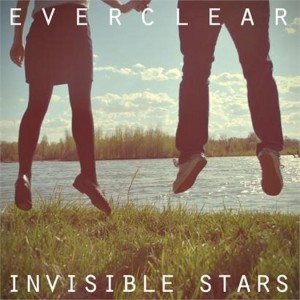 In 25 words or less: 'Invisible Stars' is a welcome return after six years for Everclear and to a sound you instantly know that has been updated to suit today.
Remember this one… "We can live beside the ocean, leave the fire behind.  Swim out past the breakers, watch the world die…" We first heard Everclear back in 1995 with this, their trademark song 'Santa Monica' now over fifteen years on, sure most of us still know them for that, but with what I'm listening to now, and what you should too in my opinion we will soon know them for more than just that one hit.
Within seconds, in fact second, if you already know this band, you instantly know this is an Everclear album, that trademark voice of Art Alexakis starts off the album and 'Tiger In A Burning Tree', the opening track of Everclear's first album in six years 'Invisible Stars' and it's a more than welcome return. 'Falling In a Good Way' and its instant hook is a sign that the opener wasn't a fluke and we're in for some great tunes.  First single 'Be Careful What You Ask For' is a perfect choice for just that, it's a toe tapping, shoulder shaking catchy track that should be all over the radio, will it be?  Probably not and that's a shame, but a great title.  'Volcano' is a stand out and an easy choice for next single, well in my opinion.  Continuing on with tracks like the punchy 'Santa Ana Wind' with a chorus and groove that makes you not only want to point in the air for no reason but to sing along instantly, it certainly has an infectiousness to it that's for sure.  In 'Wishing' a beautifully written and melodically perfect track with lyrics such as 'I don't know how to be alone…' delivered with the passion they were written with make them believable.
The melodic side of Everclear is running rampant on 'Invisible Stars' and it's so welcoming.  This is quickly developing in to an album that will be on high rotation and that's always a good feeling when an album by an established band comes along, especially when it's been so long between drinks, you can at times be dubious of these 90's bands still making music, but alas, nothing to worry about here.  'I Am Better Without You' could've come straight off 'Sparkle And Fade' in 1995, not that it sounds dated, more the point of this is a classic Everclear style song.  Even the songs that aren't as strong as others are balanced, songs like 'Jackie Robinson' and 'Rocket For The Girl' weren't really favourites of mine but on this album, but in saying that, there wasn't a song I didn't like, just ones that I didn't like as much as others, that's rare these days.  The album rounds out with 'Promenade' which is a huge track, big guitars, big 'Na Na Na' sing along, it's just big which is kudos to the great production on not only this song, but the album as a whole.
I for one have missed Everclear's sound, these types of songs, the vibe is there and the sound has evolved that suits these songs down to a tea.  The addition of that synthesiser style sound, takes me back at times to a band like The Cars and is a perfect throwback to that style but with a newness injected in to it.  In my mind Art has always been somewhat of a musical genius, his lyrics are well written and delivered and melody wise the songs are just right.  This is a great and as I said before, welcome return to Everclear and I for one will be flying the flag for this album to get it heard.
Essential Information
From: USA
For fans of: Alternative / Rock
Release date: 26 June 2012
Record label: eOne Music
Producer: Art Alexakis
Website: http://www.everclearonline.com
Track listing:
Tiger In A Burning Tree
Falling In A Good Way
Be Careful What You Ask For
Volcano
Santa Ana Wind
Wishing
I Am Better Without You
Aces
Jackie Robinson
The Golden Rule
Rocket For The Girl
Promenade
Comments
comments