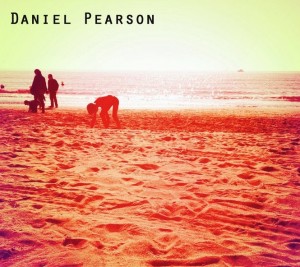 "I can't explain why it only took the opening 10 seconds of Wishing Well for Daniel Pearson to have me completely hooked, but it did."
Isn't music just a wonderful thing, or more specifically, aren't our own personal reactions to music an even more wonderful thing?  Like I often do, do you often sit and wonder why sometimes your ears and ultimately your brain can often differentiate between two seemingly very similar styles of music?  For me, the broad expansive style of "singer songwriter" is where my ears and brain leave me constantly bemused as to what they beg for repeated listens, or what they relegate to the trashcan.  Enter UK based Daniel Pearson and his debut album Satellites, which I should state up front, most definitely has not ended up in the trashcan haha!  The first thing I heard from this album and of Pearson, was lead single Wishing Well and from the opening strum of a slightly distorted electric guitar, some handclaps and the instantly familiar strains of a slightly husky voice singing "drop a coin in a wishing well….", I was immediately hooked and all it took was 10 seconds.  I didn't even need to get to the "whoa, whoa's" of the chorus and it's uplifting harmonies, which was just icing on the cake.  You see, I can't explain why it only took 10 seconds for Daniel Pearson to have me completely hooked, but it did.
For those like me who are often turned away from this style of music because of quirkiness or inaccessibility….well, I can assure you that this album suffers from neither.  The closest reference point I have is comparing Pearson with Shane Nicholson from here in Australia, who is an absolute favourite of mine in delivering what I love most about the singer songwriter style.  Satellites is an album that basks in it's simplicity, but there is nothing simple in the art of surrounding acoustic guitars and relatively minimal instrumentation, with captivating arrangements, conveying a feeling of comfort and warmth and having a knack for just seeming to know when to throw in a more uptempo track to elevate the mood.  There's no better example of the latter, than the back to back pairing of the almost haunting, and to steal Pearson's own words from our recent interview "post-apocalyptic love song" Waves In The Sea, with the foot stomping, harmonica fuelled howdown of 4th July.  With influences such as Springsteen and Dylan, it's also no surprise that Pearson weaves lyrical tales within each song, whether it be tackling celebrity culture on Civilians or the autobiographical nostalgia of Satellite Town.  The rollicking guitar and piano boogie of Black N' Blue amps things up a bit, whilst isn't I'm Swimming Through Ashes Of Bridges I've Burned a song title and a half?
In this modern world of short attention spans, Satellites is an album that will draw you in for it's entire 38 something minutes, and that's the best way to truly appreciate it's endearing charms.  So sit back and relax, press play and let the music of Daniel Pearson charm you…
Check out our interview with Daniel Pearson right here…

Grab yourself a free download and a listen of Wishing Well below.
Essential Information
For fans of: Singer songwriter styled songs ala Shane Nicholson and Ryan Adams.
Release: 25th June 2012
Label: Saint In The City
Producer: Ed Heaton and Daniel Pearson
Website: www.danielpearson.net