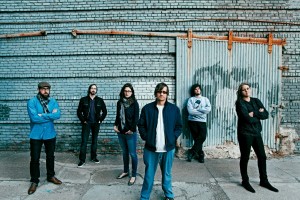 Wheatus' debut single 'Teenage Dirtbag' cracked the Top 40 BBC Official Sales Chart for a second time in March 2011 and again this year in April – TEN YEARS after its debut at #2 on the same chart. To date their first record has sold more than five million copies worldwide. Any manager or record label would be happy to tout those stats to the press but Wheatus have remained unsigned and unmanaged for the last eight years.
Wheatus continue to write, record and tour 15 years after their inception, having released five studio albums since 2000 and currently in pre-production for their sixth.
Now Wheatus are heading to Australia for their 'Still A Teenage Dirtbag' tour.
Wheatus lineup 2012
Brendan B. Brown – Guitar, Vox
Matthew Milligan – Bass
Mark Palmer – Keys
Kevin Garcia – Drums
Gabrielle Aimée – Backing Vox
Karlie Bruce – Backing Vox
TOUR DATES
Wednesday 19 of September – Corner Hotel, Melbourne 
Tickets $35.00 from the Corner Hotel Box Office & bigtix.com.au
Thursday 20th of September – Metropolis Fremantle 
Tickets $35.00 from bigtix.com.au
Friday 21st of September – The Hi-Fi Sydney 
Tickets $35.00 from bigtix.com.au & moshtix.com.au
Saturday 22nd of September – Fat As Butter Festival, Newcastle: www.fatasbutter.com.au 
Sunday 23rd of September – The Hi-Fi, Brisbane 
Tickets $35.00 from bigtix.com.au & moshtix.com.au
More info through www.bigapachee.com.au