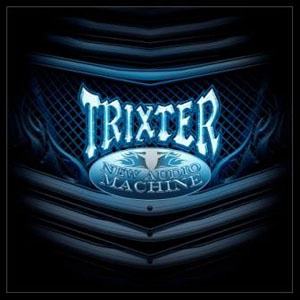 In summary: Love them, hate them or just like them a little bit, Trixter make fun rock songs, so just listen to this and enjoy it for what it is, a cool rock record.
Frontiers Records is renowned for reinventing artists and giving these 80's and 90's bands in essence a second shot at what they love, and that's making music. This time it's Trixter's turn, now I've always loved Trixter and admit that I still listen to their debut album often. Don't judge me. But when I heard a new record was on the way with the original band back together, I was ready to 'Hear' what they were going to come up with.  Sorry, I couldn't help myself.
'Drag Me Down' that opens 'New Audio Machine' kicks in and kicks us off. It's a great opener and a great choice to start it off. Continuing with 'Get On It' and it's foot tapping goodness I can hear shades of primarily what Steve Brown has been up to with Stereo Fallout and 40ft Ringo, bringing in the buzzy element of the guitars and power pop rock style songs, which I love, so I'm enjoying this album so far, obviously as the primary songwriter we can expect to hear how Brown has evolved. 'Dirty Love' continues with the hooks and sounds like it could've come straight out of the early 90's and off of 'Hear'. 'Machine' is a favourite so far especially with the breakdown in the middle of the song that builds back in to a huge rocker. 'Live For The Day' is an acoustic driven rocker with a great lyrical content, I can't help it if I'm a sucker for songs with feeling. Oh yeah the middle 8 has just kicked in and it's a winner, that's the way to my heart, give me a perfect middle 8 and you've got me, you don't even have to buy me dinner. This will (should) be a single. We turn the volume back up with 'Ride' and a nice heavy riff and yet another catchy chorus, I think these guys know the formula of a great throwback rock song. 'Physical Attraction' is good, not my favourite by any means but it suits the album but ooh it just redeemed itself with a sweet guitar solo. Nice work Steve.
First single 'Tattoos and Misery' was the first taste we had of new music from Trixter and I was in love with it from the first second. This is such a good song; I wish more songs sounded like this. It's a perfect modern reinvention for Trixter with its chorus and catchy riff, this makes me happy. 'The Coolest Thing' is pretty close to the coolest thing on this album, once again, I'm a sucker for a power ballad style track and this is pretty damn close to that.  Back a rockin' with 'Save Your Soul' claiming that Rock and Roll will save your soul and that's true, once I was at a gig and I saw the light.  Sure it was one of the blinding spots but nonetheless, I'm just rambling.  I do however like the sentiment behind that track.  To finish off the album we have a cover of a Skid Row demo called 'Walk With A Stranger' and I'd be happy to oblige in taking candy or a ride with them as this upbeat catchy tune is the perfect way to end an enjoyable fun rock record.
As I said you can definitely hear the influences of what Steve Brown has been up to mixed in with that Trixter sound and vocals of Pete Loran, so it's modernised and it works, but what sucks these days is that as much as the fan base is there it hurts me that this kind of music just won't reach the heights of where it was many, many years ago, although there are many that are happy with that, there are plenty that aren't. Hey here's hoping the cycle comes around again and these fun upbeat rock songs will once again rule the world. Like I feel they should.  Call me dated, but I know what I like.
Essential Information
From: USA
For fans of: Rock / AOR
Release date: 20 April 2012
Record label: Frontiers Records
Producer: Steve Brown, Chuck Alzakian
Website: http://www.trixterrocks.com
Track listing:
Drag Me Down
Get On It
Dirty Love
Machine
Live for the Day
Ride
Physical Attraction
Tattoos & Misery
The Coolest Thing
Save Your Soul
Walk With a Stranger
Comments
comments