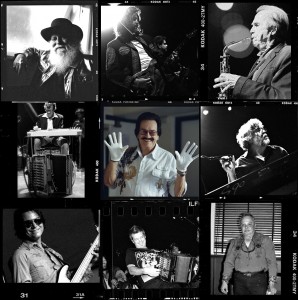 LOVE POLICE PROUDLY ANNOUNCE THE RETURN OF THE LEGENDARY LIL' BAND O' GOLD

TOURING JUNE 2012 with New Album 'Lil' Band O' Gold Play Fats' Released June 8 
Calling all good time groovers!! It's time to move your feet in a swamp and soul groove as the legendary Louisiana Swamp Pop, Country, Cajun, Blues and Rock n Roll Supergroup Lil' Band O' Gold return to our shores.
In 2010 they came twice and blew audiences away like a howling wind blowing through the Louisiana swamp delta. And with a new album and material in the offering the 2012 tour will be one not to miss. The band will return to Sydney for two hot and sweaty nights followed by Melbourne, which will have three shows to enjoy this brilliant musical concoction.
The new musical offering will be the release of 'Lil' Band O' Gold Play Fats'. This record will feature cover versions of the bands favourite Fats Domino songs with guest vocalists and fans Robert Plant, Lucinda Williams and our Australia very own Jimmy Barnes and Tim Rogers lending a hand. Again Australia will be the very first place that this record will be available.
Lil' Band O' Gold features some of the most influential musicians to ever have emerged from America's most important musical state. The band features singer and drummer Warren Storm, the man considered the grandfather of swamp pop, accordion champion Steve Riley, the creativity of Dickie Landry on saxophone, West Australia's very own Lucky Oceans on pedal steel, much covered songwriter David Egan on piano, Vocalist and guitarist CC Adcock , Pat Breaux and bass man Philippe Billeaudeaux. Yes….that is one almighty line up.
The Lil' Band O' Gold shows will deliver a sweet and soulful journey with their mixture of energetic romps and soulful ballads delivering the diverse musical goods that are the band's hallmark. It is a musical tour de force that any true music lover cannot afford to miss.
Come and experience the music. Dancing shoes are a prerequisite.
All tickets are on sale now and are available online at: www.lovepolice.com.au/tours
June 23 – The Factory Theatre, Sydney, NSW
June 24 – The Basement, Sydney, NSW
June 27 – Regal Ballroom, Melbourne, VIC
June 28 – Regal Ballroom, Melbourne, VIC
June 29 – The Gershwin Room, Melbourne, VIC
http://www.facebook.com/lil.band.o.gold
'Lil' Band O' Gold Play Fats' is out June 8 through Dust Devil Music\EMI Music
Comments
comments