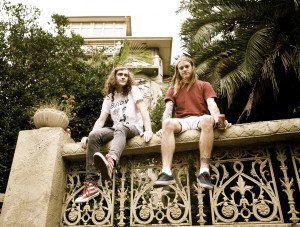 F U C K   I T!
With a one-two sucker punch that beats the word count of the Ramones call to arms Hey Ho, Let's Go by two words, DUNE RATS new single 'Fuck It' is set to become the anthem of a new rock generation!
 Already sounding suspiciously like a classic 'Fuck It' storms the barricades and does the business in two minutes flat, leaving even an ADHD affected generation in no doubt that they are indeed in the presence of greatness!
 With nary enough time to catch a breath after their recent national tour of duty with the Bleeding Knees Club, Dune Rats will take 'Fuck It' to the streets throughout May in what will be their first ever headline tour. The song also marks the production debut of Last Dinosaurs' front person (and part time Dune Rats bassist) Sean Caskey.
 The 'Fuck It' tour will be as short and as perfectly formed as the song itself…a shambolic and fun fuelled five-date adventure through Coolangatta, Brisbane, Sydney, Melbourne and Adelaide intent on mobilising the hordes of Dune Rats fans left unwashed and somewhat slightly dazed in the wake of their previous shows with Bleeding Knees Club and international hipsters such as The Drums, Cults, Ariel Pink's Haunted Graffiti and Best Coast.
A halcyon call to arms it encapsulates all that has been good about rock&roll since 1976 – from the heady days of punk rock through to the fuzz-pop sounds of the UK in the mid-eighties, the slacker ideals of Pavement and the raw energy of Nirvana.
'Fuck It' will be released on Monday 7 May and is the lead song from the bands upcoming EP due for release in June. 
…enjoy an evening with DUNE RATS  at these fine venues…
Thursday 17 May
NEVERLAND Coolangatta, QLD
w/ Gung Ho, Pigs Porken & Little Mind
www.moshtix.com.au
 Friday 18 May
ALHAMBRA LOUNGE Brisbane, QLD
w/ Gung Ho, Pigs Porken
http://tickets.oztix.com.au
 Saturday 19 May
SPECTRUM Sydney, NSW
w/ Gung Ho & Pear Shape
www.moshtix.com.au
 Friday 25 May
WORKERS CLUB Melbourne, VIC
w/ ScotDrakula & Udays Tiger
www.moshtix.com.au
 Saturday 26 May
ED CASTLE Adelaide, SA
w/ The Daylight Braves, Bloom & The Sweet Decline
www.moshtix.com.au
'FUCK IT' will be available via iTunes on Monday 7 May via InertiaAccess
Comments
comments