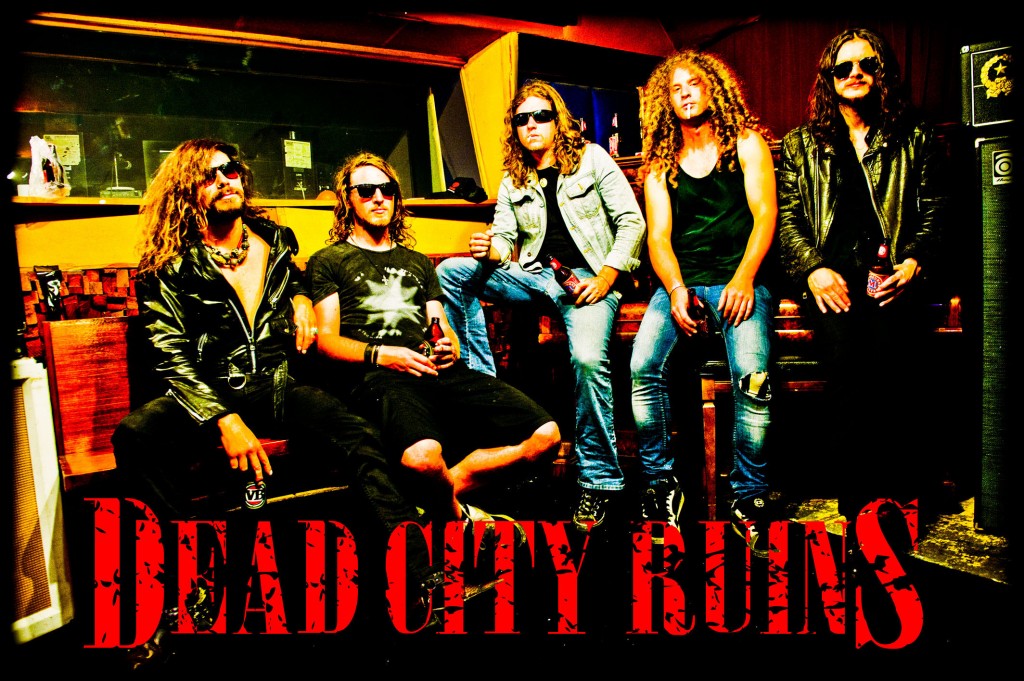 Official Bio: "Dead City Ruins have been carving their own path in the world of hard rock. Starting out in London England and making their way home to Australia whilst playing as many down trodden, hole in the wall pubs and clubs as one band can fit into a seven day week.
Splicing the musicianship of 70′s and 80′s metal and the soul catching riffs of bluesy rock with the intensity and "f*ck 'em all" attitude of punk rock, Dead City Ruins have left crowds from London (ENG) to Melbourne (AUS) reeling for more and asking themselves where the hell this band came from.
To date the band has released one E.P "Lost in London" (2007) and just recently released their debut album "MIDNIGHT KILLER" (2011) which has been receiving rave reviews online and regular airplay on local radio.
Throughout August to November 2011, Dead City Ruins completed their first UK & European tour, playing 50 dates across 10 countries, finishing off the tour at an international music festival in Dubai.
2012 will see Dead City Ruins commence their second invasion of Europe, including support slots with Blaze Bayley, Mastodon and Wolfmother and the recording of their second full length album."
Lead singer Jake, checks in with May The Rock Be With You to chat about the upcoming Europe/UK tour (dates below) and all things Dead City Ruins, including a much sought after update on "The Blue Bastard"!
Let's start with the basics first, when did the first band get together and what was the inspiration behind the band name Dead City Ruins?
D.C.R did originally start way back in 2007 in rainy old London, it was a different line up then. Mick (bass) and I (JAKE-vocals) had to bail back to Australia after playin round as many back ally/hole in the wall pubs we could find during our time in England. When we landed in Melbourne I spent a year searching all the local musicians and watching bands to find the right kind of mad men to get D.C.R back up n running. Tommy (lead guitar) was doin the same thing looking endlessly for musicians to start somethin up with. I tried out for his band and pretty much straight away knew I wanted to get tom to start somethin new with me, we talked it over I suggested Mick on Bass and he brought in Drewsy on Drums.We played every bar that would let us and eventually decided we needed a rhythm guitarist, so we got in Blanchy who grew up with Tommy and Drewsy.
Can you introduce each member of the band and give us a rock 'n' roll fact or myth about each?
Tommy- Lead Guitar
Drewsy- Drums
Mick- Bass
Blanchy- Rhythm Guitar
Jake- Vocals
Myths are created by someone who knew someone who's wife's uncle "was there" so I cant help there but a fact is, on our last European tour we left Australia with only 12 shows booked and ended up playing 50 shows in 11 countries. That's testament to how hard we are willing to work to keep touring.
You have just released your new album 'Midnight Killer'? – compared to touring which you guys obviously have a love for, what were some of the more enjoyable and least enjoyable aspects of writing and recording the CD?
As an independent band we not only had to find the money but we had to find the time to do this record. We were all coming in to the studio on days off or after workin all day and just tryin to get the tracks done. Being in the studio is hard work, we were really lucky we had a good sound engineer who knew when to push for one more take and when to get another scotch.
In terms of song writing, what do you consider to be the most important elements that feature in a Dead City Ruins song?
D.C.R songs are definitely Guitar heavy, We take our influences from a lot of the N.W.O.B.H.M greats. Big Vocals, Big Solos, Cut back pounding Drums and a tight as fuck Rhythm section.
Over the course of the bands evolution, what or who, have you found inspires and influences your music the most, in both a lyrical and musical sense?
Our lyrics revolve around stuff in our lives; take "my lai massacre" for instance. Both Mick and My Grandfathers fought in the Vietnam War and so we have both always had an interest in war books and films. Mick was reading a book and came across the story of what went down in My Lai, which led to that song. As for influences and inspiration, we all take from bands like Motorhead, Black Sabbath, Thin Lizzy, Guns n Rosses, Megadeth, Iron Maiden….. hell all the good stuff!
Hypothetically speaking of course, if you could travel back in time (or into the future even, say tomorrow….) and play your music to any one of your musical heroes, who would it be and why?
That's hard to say really……. probably Ronnie James Dio, for the simple fact that I would love to have a beer with him.
You spent a few months touring the UK & Europe last year and you are headed back there again next month for a few months touring that will include Gojira, Mastodon, Wolfmother, Belgium, Beer and no doubt a whole lotta rock…but importantly, will "The Blue Bastard" be making a re-appearance this time around?
That is the best question we have been asked in all the interviews so far!! for those who are not familiar with the blue bastard, it was our last tour vehicle. the 6 wheel 9 seater death machine!
Unfortunately The Blue Bastard will not be returning, we gave it an unceremonious send off by leaving it in the 5 min parking at Frankfurt airport. By the end of the tour the drivers seat had rusted through the floor, it had no breaks, bald tyres, no starter motor, no headlights and petrol was gushing from the petrol tank how we didn't die in that thing I will never know!!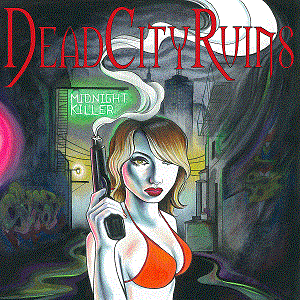 You hail from Melbourne, arguably the rock capital of Australia.  For the benefit of those in galaxies far, far, away…what do you have to say about the Melbourne rock scene at the moment and Dead City Ruins place within it?
Not just Melbourne but all of Australia is a breading ground for hard working bands. The big cities are 10 hours drive from each other so it's a great training ground for touring.  As far as rock in Australia, there are some great local bands but there just isn't enough crowds to support them which creates a real battle between bands, everyone is fighting for what ever crumbs they can get.  What is Dead City Ruins place in the Melbourne rock scene? I think people are not sure if they like us or hate us. Dead City Ruins place is the road wherever touring takes us.
If you were a person in the crowd at one of your gigs, what five words would you walk away using to describe the performance you just witnessed?
What
The
Fuck
Just
Happened???
Gigs, gigs, gigs…do Dead City Ruins have any local shows coming up before you head overseas that you wanted to tell the people about, if so here's your chance!
Just played our last show in Australia at the launch of Heavy Mag, Aussies new rock mag.  When we get back from Europe we will be doing a rural Victorian tour and an East Coast tour.  We don't wanna go back to our day jobs.
With 2012 already four months down, here's a chance to gaze into your crystal ball. By the end of 2012, Dead City Ruins will have:
1. Released another album
2. Booked our next European tour
3. booked a tour of America
Cheers for the interview mate! see you at the bar!
Jake
Dead City Ruins
Essential Information
From: Melbourne, Australia
Sounds like: Rock!
Band members: Tommy Teabag – GUITAR, Jake Wiffen – VOCALS, Drewsy – DRUMS, Mick Quee – BASS, Sean Blanchard – GUITAR
Website: www.facebook.com/deadcityruins
Latest release: Midnight Killer (2011)