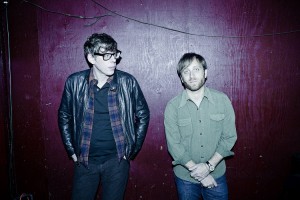 THE BLACK KEYS – ANNOUNCE AUSTRALIAN TOUR
Tickets on sale from noon today 
The Black Keys are the hottest rock and roll act on the planet right now!
After selling out arenas all through the USA, Canada, UK and Europe and headlining Coachella and Lollapalooza and many other festivals they are very pleased to announce their long awaited return to Australia this October.
Their latest (and seventh) album El Camino is now platinum in Australia, reaching #2 on the ARIA album chart.   Its infectious opening track Lonely Boy is a certified global smash hit single, achieving double platinum sales in Australia, reaching #2 on the ARIA single chart and #2 on the triple j hottest 100.  Rolling Stone calls new single Gold on the Ceiling's keyboards "a serrated organ growl backed up with a SWAT team of hand claps" and cited it as an example of Danger Mouse's prowess as a producer and co-writer.  Rest assured, The Black Keys will be bringing all of these tracks and more to Australian audiences with their electrifying new live show.
The show features huge visuals from 20 projectors, giant mirror balls, and all the hits from their deep and consistently awesome back catalogue.
The transformation of The Black Keys from a two piece garage band playing small clubs to being worthy headliners of arenas and festivals could not be more just or complete and proves that the pure combination of good times, great music and grit can still turn to gold.
Rest assured, you haven't seen a show like this before.
The Black Keys have a deep love affair with Australia. They toured here first in 2003 just in time for the release of their second album, Thickfreakness. Since then they have toured here five more times, played every major city and many regional towns multiple times, as well as Bluesfest, The Falls, Groovin' The Moo, Pyramid Rock and West Coast Blues & Roots festivals. They are loved from Darwin to Tassie, from Byron Bay to Geelong. Every true music fan has a Black Keys story to tell, and this October tour will be another big, big chapter.
Joining the band on all shows will be Sydney's outstanding Royal Headache. These zeitgeist-straddling purveyors of DIY garage soul are the most exciting musical thing happening in our country right now. Their debut self-titled album of last year was highly loved and rated by all from the 'burbs to the inner city hipsters. Get there early to experience and believe their power.
The Black Keys will play Newcastle, Sydney, Brisbane, Adelaide and Melbourne as well as a headlining appearance at Perth's Rock It Festival.
Get on it! – It is on sale today, like, right now! – Here are the dates….
THE BLACK KEYS AUSTRALIAN TOUR
Brought to you by Love Police Touring and Billions Australia
Sunday 21 October – NEWCASTLE ENTERTAINMENT CENTRE – Buy tickets
Monday 22 October – SYDNEY ENTERTAINMENT CENTRE – Buy tickets
Friday 26 October – BRISBANE ENTERTAINMENT CENTRE – Buy tickets
Sunday 28 October –ROCK IT FESTIVAL, ARENA JOONDALUP – Buy tickets
Tuesday 30 October – ADELAIDE ENTERTAINMENT CENTRE – Buy tickets
Wednesday 31 October – SIDNEY MYER MUSIC BOWL, MELBOURNE – Buy tickets
www.theblackkeys.com
www.theblackkeys.com.au
www.facebook.com/TheBlackKeys
#theblackkeysinoz
Comments
comments