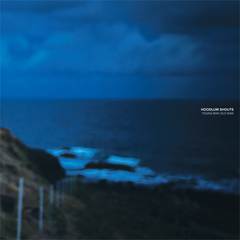 "Hoodlum Shouts" – well there's a band name that if you haven't heard their music before, would conjure up many different possibilities as to the style of music they play.  Hailing from the nation's capital Canberra, throughout this, their debut full length album, the Hoodlum Shouts deliver nearly 50 minutes of brooding Australiana punk country tinged alternative rock that has seen them compared to the likes of Midnight Oil, The Nation Blue and The Drones.  Which is certainly an apt comparison, and especially so given the recording talents of Matt Voigt (The Dirty Three, Midnight Oil, The Nation Blue) are integral to the sound heard throughout.
The instrumental guitar and harmonica piece La Nina opens the album and we get a rollicking burst of three tracks with Guns, Germs, Steel my highlight which will certainly garner some instant appeal with it's Midnight Oil type vibe, and the raucous Pushing Squares is bound to be a live crowd favourite, if it's not already.  Wapengo (Ness) is where the album really starts to require your attention.   For me, the most overwhelming thought whilst listening to tracks such as the likes of Wapengo, The Upkeep Of The City or the 8 minute epic, For A Family screamed movie soundtrack set to a backdrop of desolate, barren Australian landscapes.
Young Man, Old Man is certainly an album that requires your full, undivided attention, both in a lyrical and musical sense.  Try as you might to listen to the album as a background piece, but whether it be the lyrical portrayal of historical or modern day Australia, or the unexpected musical tangents throughout such as didgeridoo or harmonica, resistance is futile, as your attention is bound to be drawn into the album.  With a name that well and truly sticks in your head and importantly an album that demands attention, expect to be hearing lots more about Hoodlum Shouts around the traps this year.
Speaking of traps, here's a bunch of them where you can go catch the guys live…
Wednesday April 18th – THE OLD BAR, Melbourne 18+
Thursday April 19th – TRANSIT, Canberra 18 +
Friday April 20th – BLACKWIRE RECORDS, Sydney AA
Saturday April 21st – BALDFACED STAG, Sydney 18+
Thursday May 3rd – X & Y BAR, Brisbane 18+
Saturday May 5th – GASOMETER, Melbourne 18+
Essential Information
From: Canberra, Melbourne
For fans of: Distinctly Australian rock and punk
Release date: 28th March 2012
Record label: Poison City and HelloSquare Recordings
Producer: Matt Voigt
Website: www.hoodlumshouts.com.au
Comments
comments