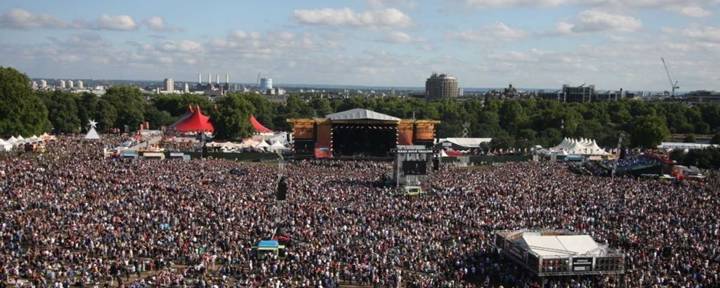 HARD ROCK RISING – GLOBAL BATTLE OF THE BANDS COMMENCES IN AUSTRALIA
Winner to Play Live at Hyde Park London – YOUR BAND could be playing on that stage above!

January 2012 – Hard Rock Australia is offering unsigned bands an unprecedented, chance of a lifetime to hit the big-time globally and play live at Hyde Park London at Hard Rock Calling: a three day music festival, headlined in 2012 by Bruce Springsteen and The E Street Band. Hard Rock Rising, the worldwide battle of the bands, now in 86 cities around the world, finds and supports the stars of tomorrow. Entries have now commenced in Australia and close 17 January.
Bands can enter the competition at either the Sydney or Surfers Paradise Hard Rock Cafe via Facebook and ReverbNation (RN), the leading online music-marketing platform used by over 1.6million artists in 250 countries worldwide to grow their reach, influence and business across the internet
Once local bands have entered online the "application" facebook page will revert into a voting page where fans can vote for their favourite band. Fans "vote" by downloading a free track from their band of choice and can vote multiple times during this phase but must live in Australia to be eligible to vote. Each participating band will receive appropriate links to market themselves; making it easy for fans to vote. At the end of the approximate 15 day voting period, RN will provide Hard Rock a list of bands for each market, ranked in order from highest to lowest votes.
The top nine bands will then perform at live heats at each Hard Rock Cafe ( Sydney or Surfers Paradise) to be judged by local peer representatives and industry professionals including record company representatives, editors of music street press and others, with both Australian winning bands going on to compete globally.
Previous artists and bands that have headlined Hard Rock Calling included, in 2011, The Killers, Bon Jovi, Stevie Nicks and Rod Stewart and in 2010, Pearl Jam, Steve Wonder and Paul McCartney.
To enter Hard Rock Rising 2012 and for the Official Rules and participating cities go to: www.facebook.com/hardrockcafesydney  or www.facebook.com/hardrockcafesurfersparadise . Click on the tab on the right called "Hard Rock Rising". Click "Enter Now".  Live heats are scheduled for March at both Cafes.
So what are you waiting for?? Hard Rock ( and fame) is Calling! Enter now!
Please note – This Battle is open WORLD WIDE, please click on the image below for details for your country and May the Rock be with You all!!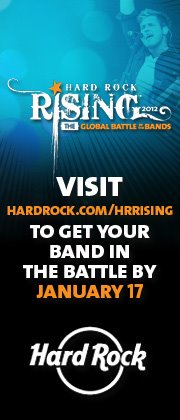 Comments
comments