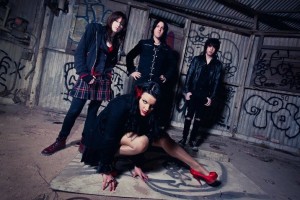 Official Bio: "Drawing musical inspiration predominantly from German and Scandinavian punk-rock and decorated with gutsy, powerful female vocals, THE SCARLETS have a rare spark that is a diamond in the rough of rock music today. Their wide-ranging appeal has seen them share the stage with the likes of everyone from underground punk royalty to Bon Jovi, play metal festivals to cabaret nights, and securing regular radio play on many Australian and international radio stations both community and commercial.
Born of singer NELLI SCARLET and bass player NICK IVKA'S combined love of ball-tearing rock'n'roll and respect for popular music, THE SCARLETS began as an idea to create a band that was everything they wanted to see and hear in a local band but couldnt find anywhere. Soon followed the arrival of pocket rocket drummer LIZZIE DYNON, where the three discovered they had a chemistry that couldnt go to waste. Enter guitar prodigy PETE DAVIES and the result is a ticking time bomb of sex appeal and rock'n'roll fury."
Nick Ivka kindly answered our questions to give a great insight into what The Scarlets are all about!
Let's start with the basics first, in your own words, how would you describe what The Scarlets are all about, both musically and visually? 
To quote Phil Anselmo on Pantera's first home video: "Eeeeeenerrrgy". The four members of the band are pretty different in terms of musical tastes and influences, but one thing we all share in common is that we are all huge fans of music. As music fans, we're pretty bored with what the mainstream has been feeding the public for the last couple of years and the fact that it seems that for some absolute bizarre reason it seems like the thicker the rims of your reading glasses that you wear on stage and the softer your music is, the bigger a rockstar you are considered.
Our aim is to basically steal the 'cool' back from the 'nerds' by writing good, catchy songs with enough energy to make you want to just pick something up and throw it through a window in sheer joy, and most important of all – to provide the most entertaining show in town.
Can you introduce each member of the band and give us a rock 'n' roll fact or myth about each?
Nelli Scarlet – Vocals
Myth: She ate lunch with Jon Bon Jovi in catering prior to our first show supporting his band at Rod Laver Arena.
Fact: She actually had lunch with Jon Bon Jovi while in utero. Her mum worked on the Australian version of the Rocky Horror Show, and Bon Jovi were on tour for the Slippery When Wet album (I think!). The guys really wanted to catch the show but due to their tour schedule were unable to get to the show, so Nelli's mum organised a special performance during the day exclusively for the band and crew. She was heavily pregnant with Nelli at the time and had the opportunity to sit down and have lunch with Jon.. so yeah, Nelli was there too!
Nick Ivka – Bass
Myth: He once partied hard with Tommy Lee after bumping into him at the hotel he was staying at when Motley Crue last played down under.
Fact: He once scared the living shit out of an intoxicated Tommy Lee after ambushing him at his hotel, screaming 'TEEEEE BOOOOOONNNEEEEEEEEE' while Tommy had his back turned, then quickly ran for his life as the man-mountain of a security guard tried to chase him down.
Lizzie Dynon – Drums
Myth: Her first official gig with The Scarlets at the Hifi Bar was memorable for the fact that she had to hobble onstage in crutches due to severely spraining her ankle after earning her black belt in kung-awesome by axe-kicking a planet in half.
Fact: Her first offical gig with The Scarlets at the Hifi Bar was memorable for the fact that she had to hobble onstage in crutches due to severely spraining her ankle after falling awkwardly on a JUMPING CASTLE. Credit where credit is due, she played brilliantly considering her ankle had swollen up to the size of a watermelon!
Pete Davies – Guitar
Myth: He won an award for best country and western performance by a person under 18 in Victoria.
Fact: He won an award for best country and western performance by a person under 18 in Victoria.
You have twenty seconds in an elevator to try and convince someone to listen to your brand spanking new EP 'Bombshell', what do you tell them?
"Do you like female fronted rock? No? Then you'll love this!" if that fails, then i'd grab my ipod, fire up the EP, crank it loud and scream 'LISTEN!!! ITS AMAZING YEAH??????!!!!!!!!!!!!"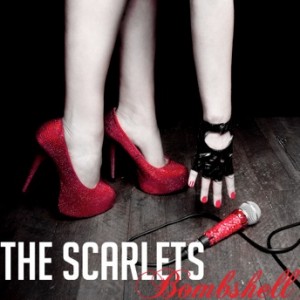 Earlier this year you recorded your EP Bombshell, which soon will be available for the whole world to hear, how would you compare this to your previous EP, Blow Your House Down?
The original idea was to record 5 more songs to add to 'Blow' and release it as a full length album, however the new songs that we had written held up a lot stronger as a separate package and made a completely different statement to what was made the first time around. We feel that the songs on 'Bombshell' still sound like the same snot-nosed kids trying to jump up and grab your attention, however the songwriting is a lot more solid, adventurous, varied and (I might have to whisper this) mature. Put it simply, when I listen to the 'Bombshell' EP, it sounds like The Scarlets, but better.
Comparing where the band was at around the time you recorded Blow Your House Down, to where you are now, what do you think have been some of the biggest changes in the band?….aside from a change of guitarists!
Well I'm going to mention the change of guitarists anyway! That obviously was the biggest change, but also add the fact that when we recorded 'Blow', the band was hardly 6 months old at the time. We've now had a hell of a lot more gigs under our belt, had touring experience, and gelled together as a real solid unit. The majority of the songs on 'Blow' were the result of me sitting in my bedroom for hours on end hell-bent on trying to come up with the best way to put 4 chords together without it sounding like the last song… Now I've discovered a 5th chord!!
All jokes aside though, the writing process has changed from myself barking orders to everyone else and ruling with an iron fist, to everybody throwing their bit into the mix and really having an equal say in whats being created. Pete is bringing in some killer riffs, Lizzie is creating some amazing drum beats, Nelli's vocal melodies are out of this world, and I'm doing whatever the hell it is that I do. The fact that we're really making the most of everything that we can bring individually to the mix has opened our sound right up, which is always a good thing as stagnation is never good unless your name is Thunderstag.. Then you WANT a Stag Nation!
In terms of your song writing, what do you consider to be the most important ingredients that need to feature in a The Scarlets song?
We jam a lot and are always brimming with ideas, however not all ideas are taken further after asking ourselves these important questions:
Is this catchy?
Will this sound good live?
Where's the hook?
Are we repeating ourselves?
Can we make this better?
Is this fun to play?
If a song we write has a great hook, is memorable and we know is going to pump people up when we play it live, then we know we have a winner. Also, it needs to be fun to play, otherwise we'll be sending everyone to sleep. If we feel its not ticking any of these boxes, we'll try and knock it into shape, otherwise it stays hidden on my little 4-track recorder and gets added to our 'Riff Bank', and trust me, there's some good stuff tucked away for future use.
What or who are some of the greatest influences on your music, in both a lyrical and musical sense?
Its hard for me to speak on behalf of the rest of the band because we're all so different, and you'd need to ask them yourself, however for me personally, I take the biggest inspiration from non-english speaking music from Europe. Germany to be specific. Die Toten Hosen, Bohse Onkelz, Der W, Die Arzte and Frei.Wild to be even more specific. I just find a deep connection to their music in that it's the perfect blend of punk-rock energy and rock n' roll, with all sorts of other influences added to the mix. If you're familiar with our music, then listen to any of these bands I listed, then you'd understand immediately where our biggest influence lies.
As much as your music does the talking, to complete The Scarlets experience is also the visual aspect, no better evidenced than in the video clip for 'Bombshell'.  Can you give a bit of background as to what you were aiming for with that video in terms of concept and visually?
The response to our debut video 'Dirty Rock Baby' was phenomenal. We were blown away by how that thing just exploded, so we really needed to think of something extra special to top it. We had a few ideas of what we were going to do, but we figured we have really honed in on our image and live performance that we needed to do something over the top without resorting to 'HEY GUYS LOOK ITS THE BAND ON A BIG STAGE PLAYING TO THEIR MATES' that a lot of other bands fall into the trap of doing.
As for the scenes of the amazing Nicole dancing around the even more amazing Gaz (from The Ramshackle Army… check them out!), the idea for that was to do a bit of a spoof on the scene in Reservoir Dogs where the guy dances around and chops the other guy's ears off. We wanted the twist at the end of the clip to be Nicole somehow killing Gaz, however we decided against it as we figured that as unpredictable as it might have seemed, it's actually very predictable and cliche… two words we try to avoid like the plague… plus it'd just give people a reason to not play our clip, which isn't exactly good business sense on our behalf.
Here's one of those "hypothetical" type questions, that one day may or may not come true…if you had the opportunity to play your music to one of your greatest influences, either alive or dead, who would it be and why?
We're doing it in a few month's time! One of my biggest musical influences is Stephan Wiedner, who was chief songwriter and bass player for the German band 'Bohse Onkelz' (Evil Unclez). After they split up, he picked up where he left off by forging an amazing solo career for himself under the name 'Der W' (The W). The music he has written is pretty much saying to me 'Hey, Nick, you think what you're doing is good, but wait 'til you hear THIS'. The man keeps raising the bar in what you should be expecting from him, and I am striving really hard to be as good as that, if not, better. Listen to 'Autonomie!', his latest album, and there's not a bad song on there!
Anyway, enough of the rambling! We have a tour booked in Germany for November/December of this year, and the man himself has contacted me telling me he really likes our video for Dirty Rock Baby and has mentioned the possibility of hanging out at his studio in Frankfurt and he would like to check us out live. So yes, there's a good chance that I may be playing my music to my greatest musical influence. Fingers crossed!
You recently headed to Brisbane and have a few more national shows coming up in support of the new EP, how have you so far found the response to the band from other states?  And what about internationally, has the band started to build an international following that you are aware of?
The interstate shows have been amazing so far. The show in Brisbane was part of the 'Dead of Winter' festival, which showcased the best underground acts from around the country, and the vibe there was just awesome. I recommend any band or punter to head up north for this festival if you get the chance. We went there not expecting anyone to know who we were and we'd have a fight on our hands to win them over, however the reality was that a LOT of people know who we were, were genuinely excited and appreciative that we were there, and the reaction was off the charts. We've had the same type of response at our last couple of shows in Sydney, so we're hoping its the same for Adelaide and Perth!
As for International action, as mentioned earlier we are heading to Germany at the end of the year to meet the increasing support we are getting from there. I guess it makes sense considering since day one we've been preaching the virtues of our biggest German influences, so it'll be cool to strut our stuff to a whole new audience. The people there have been incredibly supportive, so we're hoping to make them feel like their faith in us has been well justified.
There's been a lot of support from the USA as well, in particular the website www.beneaththegrid.com has been incredibly supportive of us, so there could be a chance of us heading to the states next year if our first overseas adventure is successful.
In late 2010 you had the opportunity to support Bon Jovi on both of their Melbourne shows.  Having seen both of your performances, you guys looked right at home up on the big stage…how did you personally find the whole experience of playing a stadium, as opposed to somewhere like Cherry Bar?
Rod Laver Arena and Etihad Stadium are two completely different beasts so its hard to provide a generalised statement when referring to the two. Playing Rod Laver Arena was the greatest moment of my life to date, and I'm sure the others in the band can agree with that (unless they've done something cooler that i haven't been informed of yet!). The crowd was close to the stage, the acoustics were great, the response was electric, and the overall experience of playing such a huge stage to so many people was fresh, new and exciting. It felt very intimate for such a large venue, and honestly didn't feel too big a departure from the bigger venues we've played like the Gershwin Room or the Hifi Bar. It was cool having a good part of the crowd watching from behind the stage, so I could pretend to be Metallica and play 360!
Etihad on the other hand, was a very weird experience. It was amazing to play such a huge venue to so many people, and was a hell of a lot of fun, however due it being so big, the crowd was so far away which was a completely new thing for us, as we're used to having to try and stop people from jumping up on our stage in a frenzy. It was a proud moment though, as all our family and friends were there, and man, it was Etihad Freakin' Stadium!!! I saw AC/DC tear that place up earlier in the year!! And this stage was bigger!!!
What is it that you think distinguishes The Scarlets from other rock bands out there?
Three things that are as equally as important as each other: Our music, our image, and our live show.
As far as our music is concerned, we've made a conscious effort not to sound strictly like an Australian band. As far as meat and potatoes hard rock is concerned, nobody does it better than the Aussies, as Rose Tattoo, AC/DC, The Angels, The Saints, The Screaming Tribesmen and Airbourne have proven, however how convincing would a chick be singing about 'garn' down th' pub with th' boys an gittn' shitfaced blotto'? Its not Nelli, and its not the rest of us, and we cant, and more importantly wont fake it like other bands do. Our main influences are from German bands that most people outside of the country have never even heard of, so that is a huge ace we have up our sleeve that other bands don't.
As far as our image is concerned, we put a huge emphasis on black and red, and even more on covering everything that does move in Swarovski crystals, and everything that doesn't move in red fairy lights. If you look at live photos of the band, its safe to say that no rock band in the world looks like The Scarlets, which is the intention. Some have said we are glam-rock influenced, but id say we are more Las-Vegas showbiz influenced. Its showbiz baby!!!!
As for our live show, we want to be the most entertaining band out there, and nobody comes offstage without lying in a pool of sweat and bloody knuckles. I actually take offence to bands who still have the energy to go out and party after playing a gig because it just means they didn't try hard enough while they were on stage.
Taking that last question one step further, how would you describe the current music scene in Australia, have you generally found people seem to get what you deliver with The Scarlets?
It's a little bit difficult for me to speak on the entire Australian music scene as we've only recently been hitting all states around the country, but what i can say about the Melbourne scene is that it is the healthiest it has been in a long time. I've been gigging since i was 17, and what I've noticed since then is that the latest crop of bands that are coming through are without a doubt the best crop of bands that we've been producing in the last 10 years.
Right now we have a lot of talented bands trying to do something different musically instead of everyone trying to get successful riding Airbourne's coat-tails like they did five years ago, and anybody who is still stuck in that mindset are now considered yesterday's news. Everybody within the latest crop of bands are really keen on helping each other out as it seems that we've all realised that if everybody works hard together, then we all benefit in the end. You can already see it with the amount of people who are now coming to the gigs, and the quality of the music and live shows that the bands are producing are improving significantly.
As for people 'getting' The Scarlets, it seems that the punters do, and a lot of industry folks as well, however whenever we have had encounters with some 'big-shot' types, it just seems that they don't get it at all. I've been asked questions such as 'why do you play so fast if you have a female singer? its not sexy when you play so fast', 'why don't you play a ballad?', 'you know what you should do? add keyboards', 'why don't you do a dance track?' and here's my favourite:  'your video… I don't get it.. it's too dark.. you know what we'll do, when WE go to Adelaide, we'll go to a skate park, and you can get the girls to slide down the ramps on their bums and shout out 'Bombshell! Bombshell!' to the camera. Kids love skateboards mate, LOVE them'….. I wish i was making it up, but sadly its true!
We understand we need to evolve to stay current, and this is the music BUSINESS so we do know that we need to compromise at times within reason, however, if we blend in with the pack and dilute the power of the band significantly we'd be killing what made us special in the first place.
We're confident the right person will come along, but until then we're just going to keep charging ahead anyway.
With 2011 half way through, here's a chance to gaze into your crystal ball.  By the end of 2011, The Scarlets will have:
1. Completed our first full-scale Australian tour which will have been a roaring success.
The response so far has been extremely positive, and more importantly, we've been having a hell of a lot of fun, so we're keen on keeping our name relevant nationally as best we can by following up on what we've done so far.
2. Headlined a successful show at the Hifi Bar with some great mates in tow.
This one is just around the corner (or may have just happened depending on when this interview gets printed), and we're pretty excited to be headlining the Hi Fi. We're planning on putting everything into this show, so that it guarantees that people will have witnessed the most over-the-top show we've ever done (hint: pyro may be involved)
3. Completed a successful and intense month-long German tour
The dates are being locked in as we speak, and so far the schedule is pretty full on. We pretty much touch down in Berlin and then three days later we're playing four shows in a row. Hard work, but man is this gonna be fun! We've got some very cool bands jumping onboard, and everybody is really supportive and excited to be helping us out, so it looks like its going to be a great tour for us.
Essential Information
From: Melbourne, Australia
Band Members: Nelli Scarlet – Vocals, Nick Ivka – Bass, Lizzie Dynon –  Drums, Pete Davies – Guitar
Websites: www.thescarletsrock.com
Latest Release: Bombshell EP – 2011
Comments
comments